The forces brought to bear on proteins: towards a new biology
NanoGune's Nanobiomechanics Group led by Raúl Pérez-Jimenez is studying the evolution of proteins dating back to the origin of life, the effects that mechanical forces can have on them, and protein involvement in certain diseases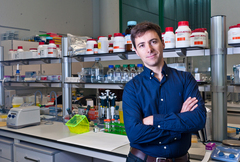 The Granada-born chemist Raúl Pérez-Jiménez has come to nanoGUNE as an Ikerbasque Research Professor after having spent eight years at Columbia University in the City of New York. He has brought with him a promising line of research that is looking into how mechanical forces affect the proteins; it is something that is linked to a whole host of biological processes, including diseases like cancer, viral and bacterial infections, or myocardial infarction.
When we tug one end of a skein of tangled wool, it unravels, and if we go on tugging when the yarn is taut, it will break. The wool stretches and breaks as a result of a mechanical force. Something similar happens all the time in everything around us and in everything we are made of. From the Earth itself right down to the tiniest of nano-elements in our bodies, everything "functions", at least partly, thanks to the action of mechanical forces. Yet little research has been done into how force affects the most basic of biological processes.
"Proteins subjected to mechanical forces are widely known to be linked to diseases yet, paradoxically, little is known in this respect. Firstly, because there were no techniques for studying these forces, and secondly, because traditionally they have been studied on a cell level with more or less established tests that did not take the mechanical component into consideration," explained Pérez-Jiménez, leader of nanoGUNE's new Nanobiomechanics Group. "The idea is to measure, and above all, to try and control the effect of the mechanical forces on proteins in order to generate fresh knowledge that could be used for acting on different diseases," said Pérez-Jiménez.
Ancestral clues
One of the lines of research that Pérez-Jiménez has set up at nanoGUNE is focusing on the study of how proteins have evolved, from the origin of life up until the present day. It is a new scientific field which this Granada-born chemist has participated in right from the start. In actual fact, Pérez-Jiménez was one of the scientists in the group that resurrected proteins, which were over 4,000 million years old, in the laboratory; this piece of research was published in 2011 in the prestigious journal Nature Structural & Molecular Biology and it continues to bear fruit, as shown by another paper published in August of this year in the journal Structure. It is a journey back in time carried out by means of biocomputing techniques. Using modern protein sequences, scientists build phylogenetic relationships kinships from which it is possible to obtain the sequence of the ancestors. These ancestral proteins provide highly valuable information on the evolution of the protein structure and, as if that were not enough, they have unique properties that can help to understand their modern descendants better. The combination of biomechanics and the resurrecting of ancestral proteins has the potential to create new proteins that could be of tremendous use in medicine and biotechnology.
The challenge of mechano-pharmacology
The proteins resurrected by the researchers were thioredoxins, an enzyme that acts as an antioxidant and which can be found in all living organisms. Pérez-Jiménez knows this enzyme well and has set himself the challenge to go on tugging at the yarn. Thioredoxin is involved in various diseases, from a simple inflammation to AIDS, which makes it particularly interesting. In thioredoxin and in many other proteins important for our health, their function is altered due to the effect of mechanical forces. Taking this premise further, Dr. Pérez-Jiménez is starting a new line to study thioredoxin and other proteins affected by force. This new line has its sights on the challenge to be able to control the effect of mechanical forces by means of mechano-active molecules, which is known as mechano-pharmacology.
They have the most advanced equipment to launch the research in this field: two cutting-edge atomic force microscopes, unique in their class, and of the type that have never before existed in the country. These instruments enable very small forces to be applied, in the order of piconewtons, to the proteins. "A protein is a molecule comprising a linear chain of amino acids which in its resting state is folded up, similar to a spring or a skein of wool. What we do is place one end of the chain on a surface and the other on a point located in the microscope. Then we apply the desired force and tug at the protein. This process provides us with information that could not be obtained until very recently and which could be tremendously useful," explained Pérez-Jimenez.
Today, medicine is becoming increasingly "nano" and the most innovative solutions are being sought and found on a nanoscale. "Diseases usually affect tissue, cells and finally molecules," explained nanoGUNE's new researcher, "and our aim is to start by studying the mechanical forces on a molecular level in order to discover new processes that could help to develop new drugs." "I'm optimistic, but realistic at the same time, and I'm aware of the effort that all this involves. Our aim, ten years from now, is to be able to develop at nanoGUNE new techniques based on mechanical forces that could have an application in specific diseases," concluded Pérez-Jiménez.
Raúl Pérez-Jiménez
Raúl Pérez-Jiménez (Granada, Spain, 1977) is an Ikerbasque Research Professor and the leader of nanoGUNE's Nanobiomechanics group. He obtained a PhD in Chemistry from the University of Granada in 2005 and joined the lab of Prof Julio M. Fernandez at the University of Columbia (City of New York), where he spent eight years, firstly as a post-doctoral researcher and later as an assistant researcher. He came to nanoGUNE in February to set up a new line of work in the field of nanobiomechanics.
CIC nanoGUNE
The nanoGune Nanoscience Cooperative Research Centre, located in Donostia-San Sebastian (Basque Country), is a research centre set up with the mission to develop basic and applied research in nanoscience and nanotechnology; it does so by encouraging the high level capability and training of researchers in this field, and by promoting cooperation among the various agents of the Basque Science, Technology and Innovation Network (universities and R&D centres) and between these agents and industry.