Research Lines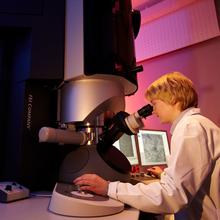 The Electron-Microscopy Laboratory, led by Dr. Andrey Chuvilin, is established with the aim of providing a high-end electron microscopy support for nanoGUNE's multidisciplinary research team.
Electron Microscopy Equipment

The nanoGUNE facilities are managed by specialists and used by researchers from a wide variety of fields.

NanoGUNE's External-Services department offers a wide range of characterization and fabrication services to external users, both academic and industrial.

Electron-Microscopy Laboratory equipment is presented below.
The internships will involve the participation of university students in actual research projects with nanoGUNE researchers for a period of two months. Applications can be submitted until 12 February 2023.

Read more
Extranet