Summer Internships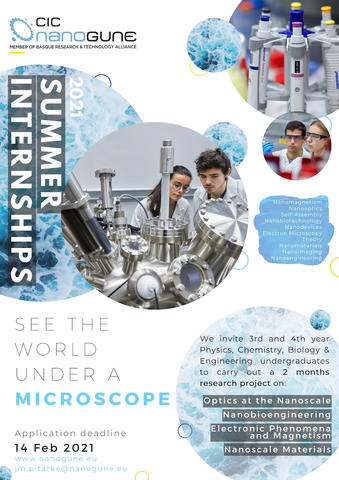 Every year, we offer undergraduate students the opportunity to participate at our Summer Internship Program.
Grants of 500 €/month are offered to 3rd and 4th year Physics, Chemistry, Biology, and Engineering students for projects from 1.5 to 2 months.
Candidates must apply online by 14 February 2021 and must upload their CV and Academic Record (UPV/EHU students can send the qualifications list from GAUR). Students are also welcomed to upload language certificates.
The preselected students will be asked for an interview towards the end of February or the beginning of March, and the selected candidates will be contacted no later than 17 March.
Research at nanoGUNE is primarily centered around 4 core themes: (i) Optics at the Nanoscale, (ii) Nanobioengineering, (iii) Electronic Phenomena and Magnetism, and (iv) Nanoscale Materials, which are being conducted in 10 research groups:
For further information, please contact nanoGUNE's director, Jose M. Pitarke, with the following subjet: Summer internship 2021.
Download and share the poster!
Summer interns