Fundación Repsol Entrepreneurs Fund supports EVOLGENE project
The EVOLGENE project, directed by nanoGUNE's researcher Raul Perez-Jimenez, has been selected as one of the four "Ideas" that will be supported by the Entrepreneurs Fund of Fundación Repsol. The paleoenzymology project aims at reconstructing ultra-efficient ancestral enzymes for use in industry.
Fundación Repsol Entrepreneurs Fund has the objective of promoting innovation and entrepreneurial development in the field of energy efficiency and new energy sources, making use of the opportunities for improvement offered by the energy sector. In its third edition, Fundación Repsol's Entrepreneurs Fund has selected six innovative energy efficiency projects and four "Ideas" among 746 proposals. The judging panel emphasised the high degree of innovation of the selected proposals as well as their potential to become companies that with their novel technological solutions contribute to the business development and the creation of new jobs in the energy sector.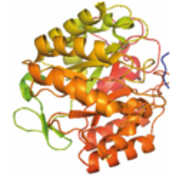 The EVOLGENE project, developed by nanoGUNE's Nanobiomechanics Group Leader and Ikerbasque Research Professor Raul Perez Jimenez, is one of the four selected "Ideas": proposals in the early state of development that will receive support to undertake a proof of concept. The project will receive business and technological mentoring as well as one-year financial support for the development of a business venture.
The paleoenzymology project uses bioinformatic resources and genomic data to reconstruct ancestral enzymes from billions of years back which are able to work under extreme temperature and pH conditions and have higher efficiency than current enzymes. These enzymes wil be used for the production of biofuel by the energy industry. Dr. Perez Jimenez, who will lead the work-team formed by Aitor Manteca and Nerea Barruetabeña, states that "the goal is to use enzymes from the past for the energy of the future".