Pablo Aguado Puente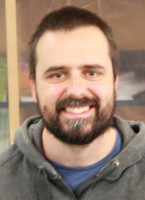 Theory
Research Fellows
Gipuzkoa fellow
Background
I obtained my PhD in Physics from the Universidad de Cantabria in 2011. During my PhD I worked on the study, by means of first-principles simulations, of screening mechanisms of the depolarizing field in ferroelectric thin films. In 2013 I joined CIC nanoGUNE, where I continued working on complex oxide interfaces, this time combining first-principles simulations with phenomenological models based on Landau Theory. During this time I was also involved as chief technological officer in the launch of a spin-of company, Simune, offering atomistic simulations by demand to the industry. Then I spent one year at the Material Physics Centre of the University of Basque Country working on the ab initio calculation of gyrotropic effects.
In 2017 I joined Queen's University Belfast, where I worked on the electronic and thermoelectric properties of IV-VI semiconductors using many-body electronic structure methods and molecular dynamics simulations.
In 2020 I returned as a Gipuzkoa Fellow to CIC NanoGUNE, where I am currently working on the investigation of exotic ferroelectric phases in unconventional ferroelectrics, and their coupling with free charge carriers.
During all these years I have also taken on teaching and mentoring duties on various occasions. I have supervised one PhD project, two MsC projects and one Physics degree final project. During my post at QUB I have been responsible for the lectures on Electronic Structure of a MSc on Materials Science and Engineering and I have taught the module Scientific Skills on the first year of the Physics degree.
Publications
For an updated list of my publications visit my profiles at ORCID or Google Scholar.