Research Lines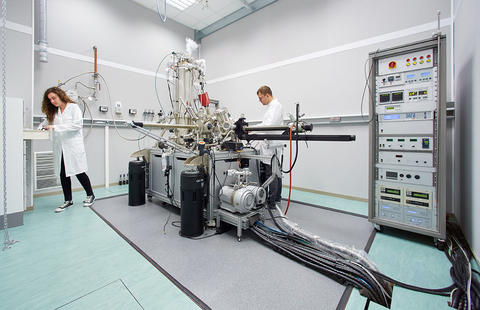 The goal of our research is to elucidate the laws of magnetism, optics, and electronics at the scale of atoms and molecules. We use low-temperature Scanning-Probe Microscopy to study the basic quantum phenomena behind the macroscopic behavior of matter and to manipulate their basic atomic components.
Graphene is a diamagnetic material, this is, unable of becoming magnetic. However, a triangular piece of graphene is predicted to be magnetic. This apparent contradiction is a consequence of "magic" shapes in the structure of graphene flakes, which force electrons to "spin" easier in one direction. Triangulene is a…Read more
The nanoGUNE facilities are managed by specialists and used by researchers from a wide variety of fields.
NanoGUNE's External-Services department offers a wide range of characterization and fabrication services to external users, both academic and industrial.
Electron-Microscopy Laboratory equipment is presented below.