Physicist Nacho Pascual receives ERC Advanced Grant to develop new quantum materials
The European Research Council (ERC) has awarded one of its prestigious ERC Advanced Grants to Ikerbasque Research Professor Nacho Pascual at CIC nanoGUNE. The three-million-euro grant will be devoted to running the CONSPIRA (Coherent control of spin chains in Graphene nanostructures) project for at least five years.
default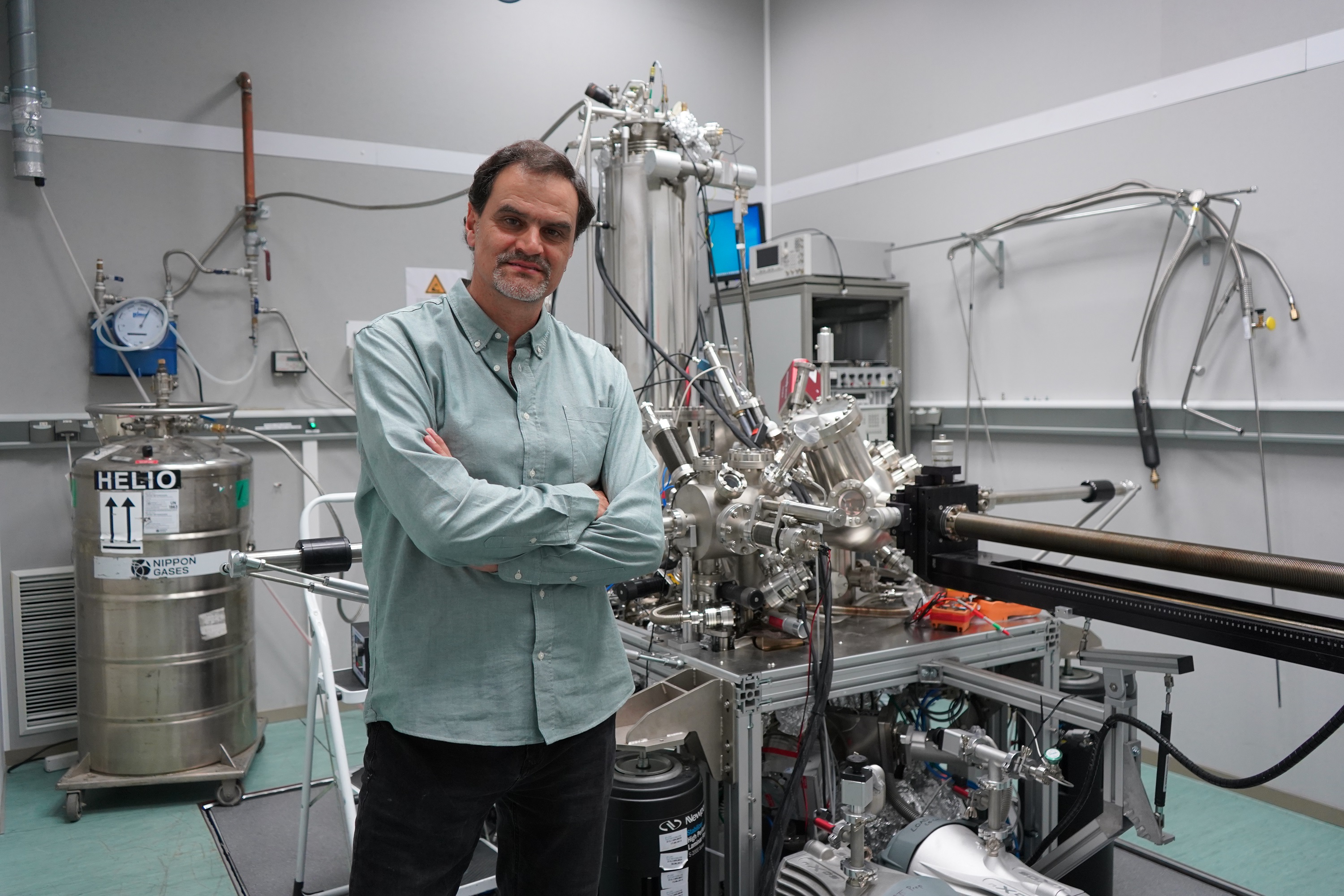 The prestigious ERC Advanced Grants are the highest recognition of scientific excellence in Europe. They provide long-term funding to support the brightest researchers and their teams while they pursue high-risk, high-benefit innovations in any field of research. The only evaluation criterion required by the European Research Council is the scientific excellence of the project and its research staff, which puts Nacho Pascual at the forefront of European scientific research.
The CONSPIRA project falls within the emerging field of second-generation quantum technologies, and seeks to explore and develop new molecular materials that will enable progress to be made in the design of quantum logic devices. Specifically, Pascual proposes designing and producing graphene structures that combine electron spin with nuclear spin. "The first of these is an elementary property that gives rise to magnetism in materials. The second has the potential to perform quantum operations. The CONSPIRA project seeks to use the more protected and more stable magnetism of electrons to manipulate the magnetism of atomic nuclei; that would make it possible to encode quantum information in a series of atoms interacting with each other," explained Pascual.
This innovative approach calls for advanced instrumentation and the combination of two techniques: tunneling microscopy and cavity quantum electrodynamics. "Tunneling microscopy allows us to access and manipulate individual atoms, while cavity quantum electrodynamics enables spins to be excited and coherently controlled by means of microwaves. The combination of these techniques is opening up new possibilities for quantum computing and the manipulation of quantum information," added the nanoGUNE researcher.
The European grant will be devoted to acquiring state-of-the-art equipment to carry out the combination of these techniques, and also to recruiting research personnel to form the specific work team for this new line of research.
 "CONSPIRA is a far-reaching proposal and a significant challenge for the creation of logic units for quantum computing," said Nacho Pascual. "Our approach will allow us to control the quantum state of atomic nuclei positioned with atomic precision in a graphene lattice, which entails the potential to significantly improve the scalability of logic units and improve the accuracy and efficiency of quantum computing operations."
Pascual says that, more than anything, this project is "a boost for the research work carried out both at nanoGUNE and in its scientific environment, where there has been a strong commitment to materials science for years, and where a transformation towards quantum science and technology is currently emerging". "Years spent studying materials at the nanometer scale mean that we can now understand and direct their quantum phenomenology," added the researcher. "The project also recognizes the work with local and international collaborations, which have allowed the foundations to be laid so that this disruptive proposal can be successful." Pascual and his team are thrilled about continuing to advance their research and contributing to the future of quantum computing.
NanoGUNE director Jose María Pitarke said that "the ERC recognition is great news because it endorses the leading position of nanoGUNE to contribute toward the development of quantum technologies, and so another project of great international significance further underscores the commitment of the Basque institutions to this scientific field".   
Nacho Pascual was born in Madrid in 1968 and obtained his PhD in Physical Sciences in 1998 from the Autonomous University of Madrid. After developing part of his scientific career as a lecturer at the Free University of Berlin, he joined CIC nanoGUNE in 2012 as an Ikerbasque Research Professor. His studies on quantum electronic transport by means of atoms and molecules using tunneling microscopy have contributed to the setting up of a new field of research in nanoelectronics.
For further information:
Watch the European Research Council´s (ERC) press release and additional information here.