Related news by tag Magnetism and superconductivity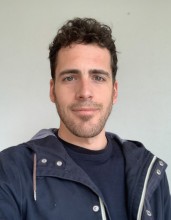 An international committee including leading researchers in the field was selected to assess the research project: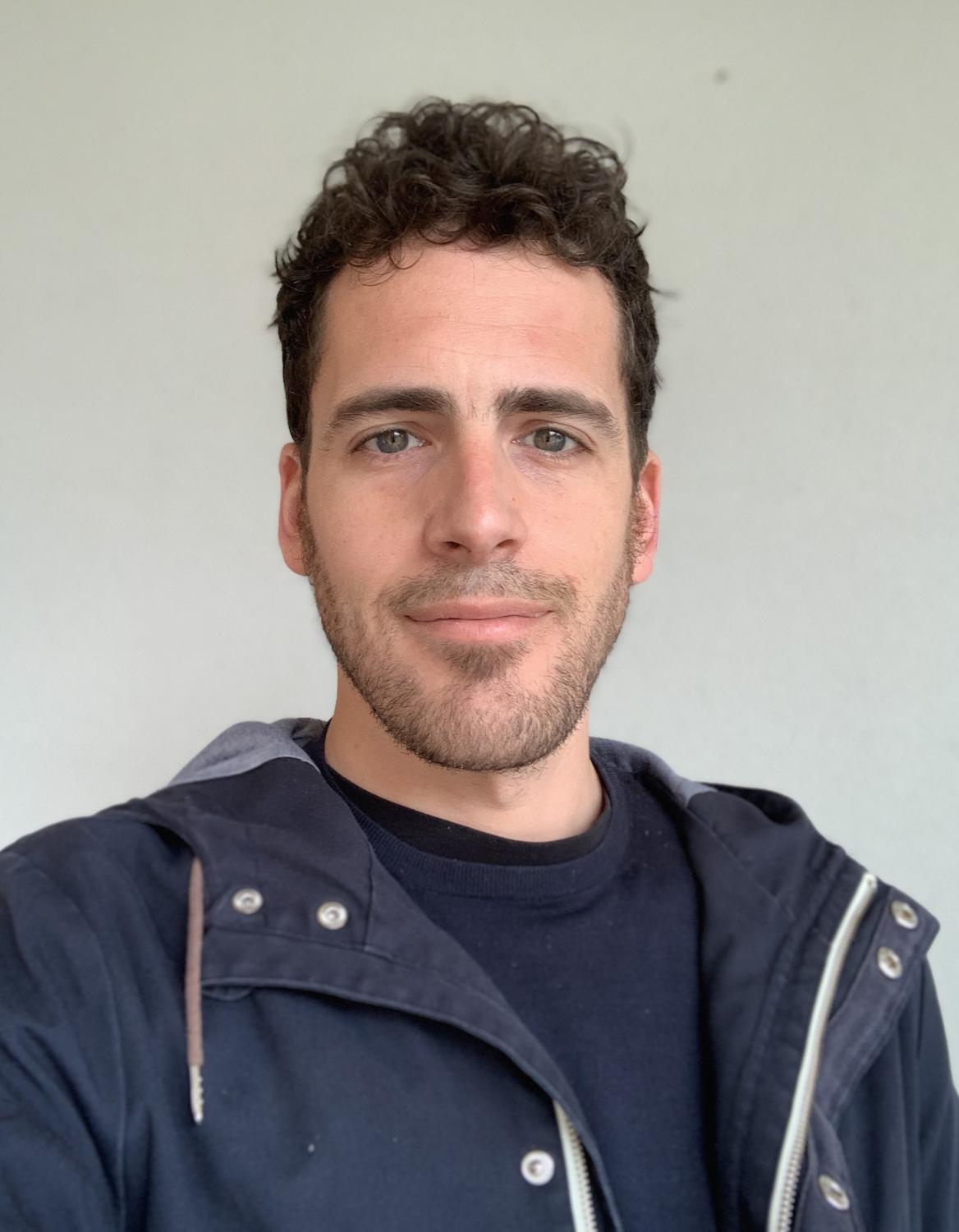 The defense consisted of a presentation by the candidate on the main aspects of the Ph.D. thesis project followed by an extended discussion based upon the questions that each one of the members of the committee raised in relation to the research work that has been carried out by Javier Zaldivar during his PhD studies.
After the defense, we asked Dr. Javier Zaldivar to explain us a bit more about his project:
Which was the subject of your thesis?
My work focuses on two topics: STM studies of Yu-Shiba-Rusinov (YSR) states emerging from isolated magnetic atoms deposited on the surface of a superconductor and how YSR states are modified when these atoms are combined to form chains. From a broader perspective, I would say in my thesis we studied the atomic-scale interaction of magnetism and superconductivity, and the possibility of engineering novel states of matter from that interaction.
Why did you choose this subject?
YSR states are a hot topic in the low-temperature STM and quantum computation communities. Few-nm-sized chains of magnetic atoms on the surface of superconductors hold the potential to host modes equivalent to Majorana fermions, a kind of particle with no equivalent outside the world of condensed matter. These modes are a necessary requirement for the development of some proposed platforms for topological quantum computation. We chose this subject because we wanted to understand how YSR states, already an unconventional type of state, can be tuned to resemble a Majorana fermion.
Which metodology/techniques did you use?
Our work is a set of purely STM-based experiments. Atoms are deposited on the surface of a superconductor inside an STM chamber under an extremely clean atmosphere and temperatures of approximately 1 kelvin. Using Scanning Tunneling Spectroscopy we identify the signatures of individual magnetic atoms and use the STM tip to push these atoms one by one to construct custom nano-sized structures containing ten to twenty atoms.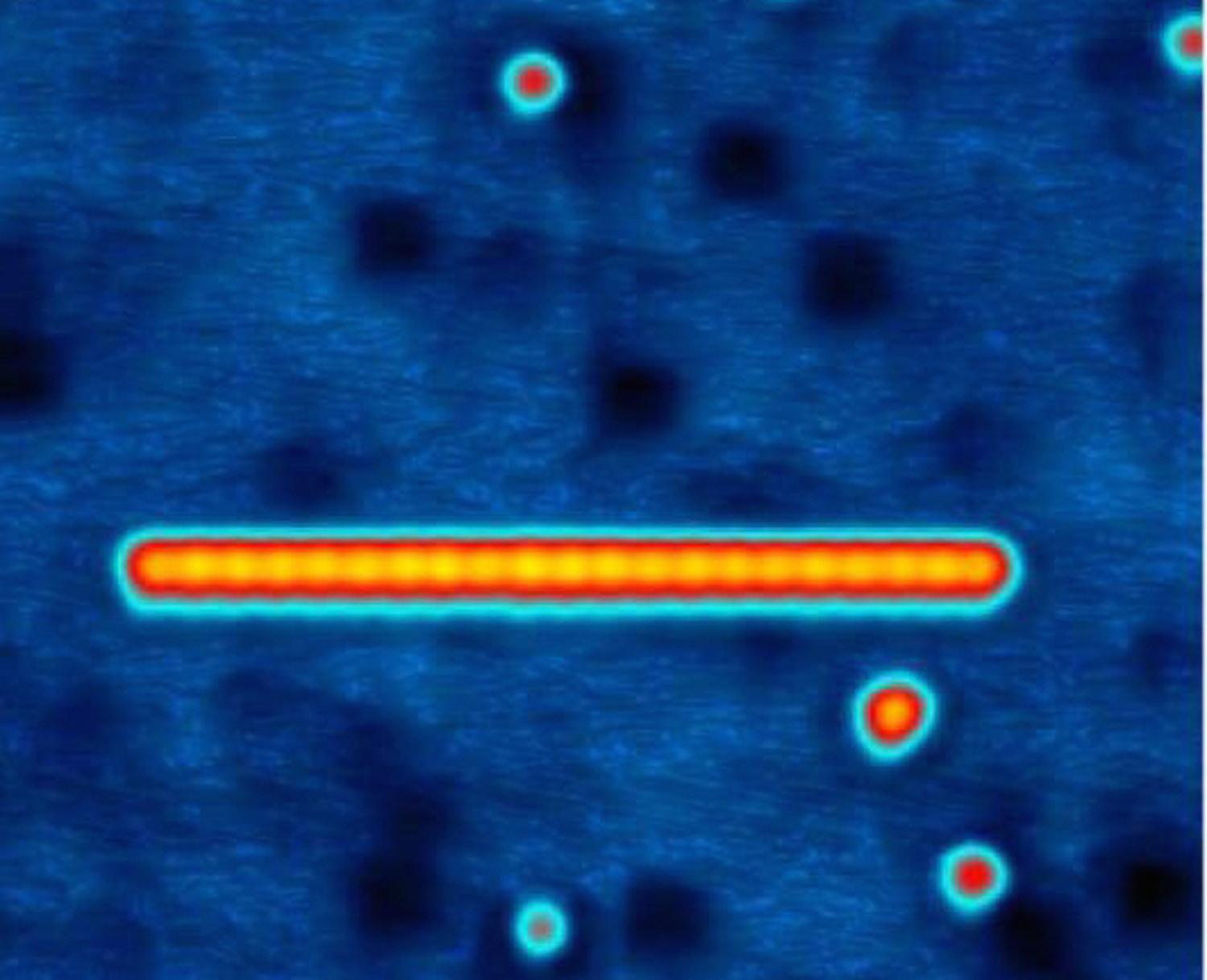 Which have been the main conclusions?
Theoretical predictions usually focus on how the magnetic interactions between atoms tune YSR states to yield Majorana modes. Although we studied the experimental signatures of such interactions and confirmed they hold in real experiments, I think our main conclusion is that the band structure of the superconducting material, an overlooked part of the problem in theoretical predictions, plays a fundamental role in the formation of Majorana modes.
What could be the contribution of your research for present or future nanotechnologies?
The work presented in my thesis focuses on the fundamental properties of assemblies of atoms, a field very distant from that of applied physics. The requirement of atomic-scale-control and very low temperatures prevents the use of our results in current-day technologies. Further research could automatize the construction of chains and the manipulation of Majorana modes, but several stages of research are still required to transform those ideas into a commercially-available technology.
How do you feel now that you have finished the thesis? Which are your plans for the future?
Having finished my thesis, I feel a sense of accomplishment and the satisfaction of giving my best over all this time. I have been surrounded by a team of excellent researchers, from whom I have learnt ideas that have expanded my knowledge of physics further more than I could have imagined when I first visited nanoGUNE some five years ago. Studying exotic phenomena at the atomic scale has been a very stimulating experience, however I am now focused on redirecting my career towards more applied topics.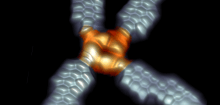 A single molecule can behave as the smallest electronic component of an electronic system. With this premise in mind, researchers in the field of molecular electronics have endeavoured in the last years to develop new approaches that bring closer the long-awaited objective of using molecules as electronic logic components.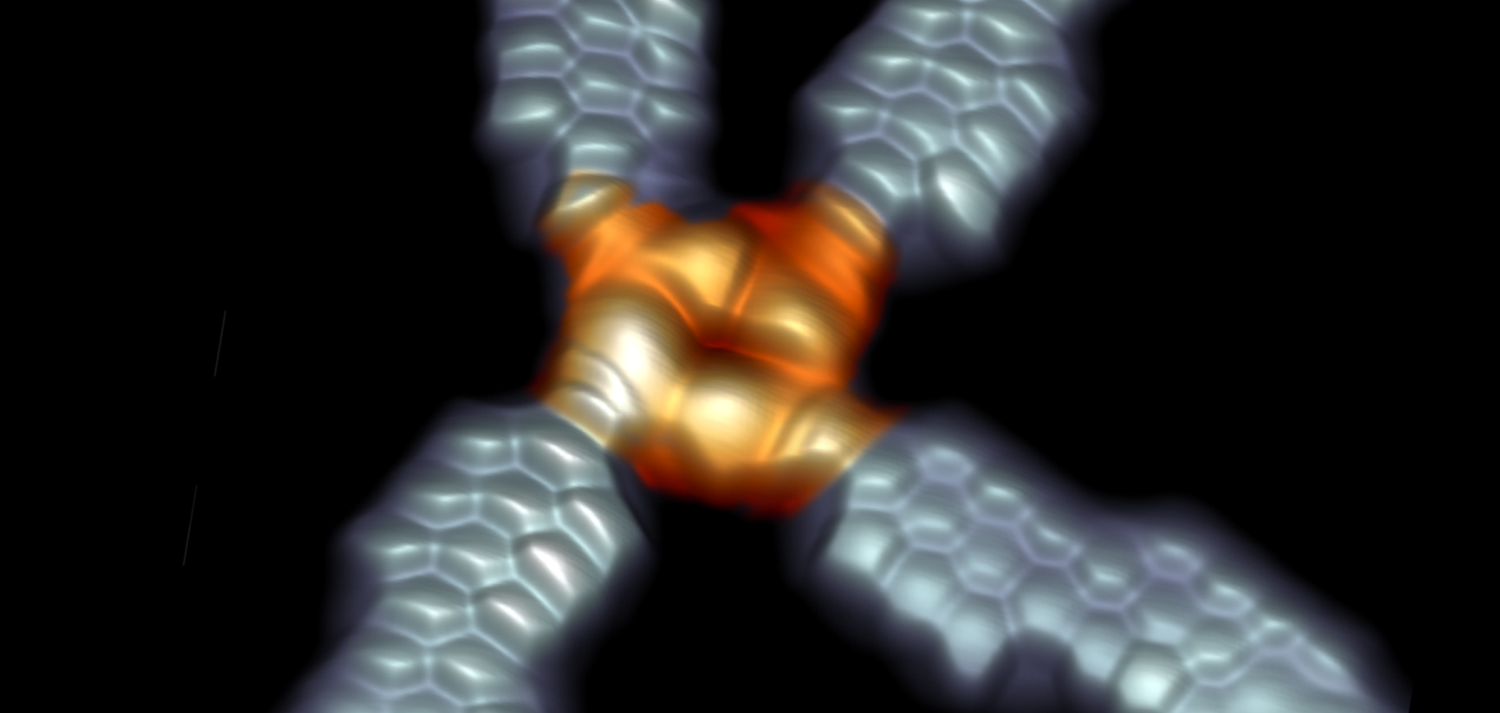 And one of the most recent steps forward is appearing today on peer-reviewed journal Science Advances, as a result of a new collaboration between physicists from CIC nanoGUNE, Donostia International Physics Center (DIPC) and Materials Physics Center (CFM, CSIC-UPV/EHU) and synthetic chemists from CiQUS (Center for Research on Biological Chemistry and Molecular Materials at the University of Santiago de Compostela). A breakthrough that has allowed contacting a single-molecule magnetic device for the first time.
"The idea is fascinating: to store information into a single molecule and read it", says Nacho Pascual, Ikerbasque Professor and leader of the Nanoimaging Group at nanoGUNE. "We have known for long time how to make the molecules, but we could never wire them into a circuit until now", he confides. To achieve this goal, scientists developed graphene narrow stripes with the aim of using them as electrical wires; in addition, they also designed a method to precisely contact the molecule at predefined places.
"We found that the contact to the molecule crucially affects how the molecular device behaves", says Jingcheng Li, first author of the article. "This discovery has made us direct the contacting step with atomic precision technologies".
Regarding the molecule creation process, researchers have employed in this case a chemical method based on guided chemical reactions over a metallic surface. "The creation of the molecular device is simple", explains CiQUS team leader, Diego Peña: "we designed and synthetized the building blocks with 'glue-like' chemical terminations at the points where contacts are to be created; from then on, nature does the rest of the job for us", he jokes.
To illustrate the process, this group of scientists has given a very visual metaphor: "we can see it as a molecular LEGO", they said. In words of Dr. Pascual, "we are learning how to use nature's laws for assembling molecules into more complex nanostructures", he claims.
The authors demonstrated the working function of the molecular device using Scanning Tunneling Microscopy (STM), a very advanced method to visualize atoms and molecules, and to measure their behavior. By means of this tool, they could confirm under which conditions the magnetic information stored in the molecule could survive to the contact, opening a new way to develop novel materials for efficient electronics.
The work has been realized in the framework of a Spanish collaborative research consortium named FunMolDev (acronym of Functional Molecular Devices), funded by the Spanish Ministry for the Economy and Competitiveness, the Government of the Basque Autonomous Community, the Xunta de Galicia, and the European Union.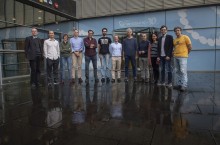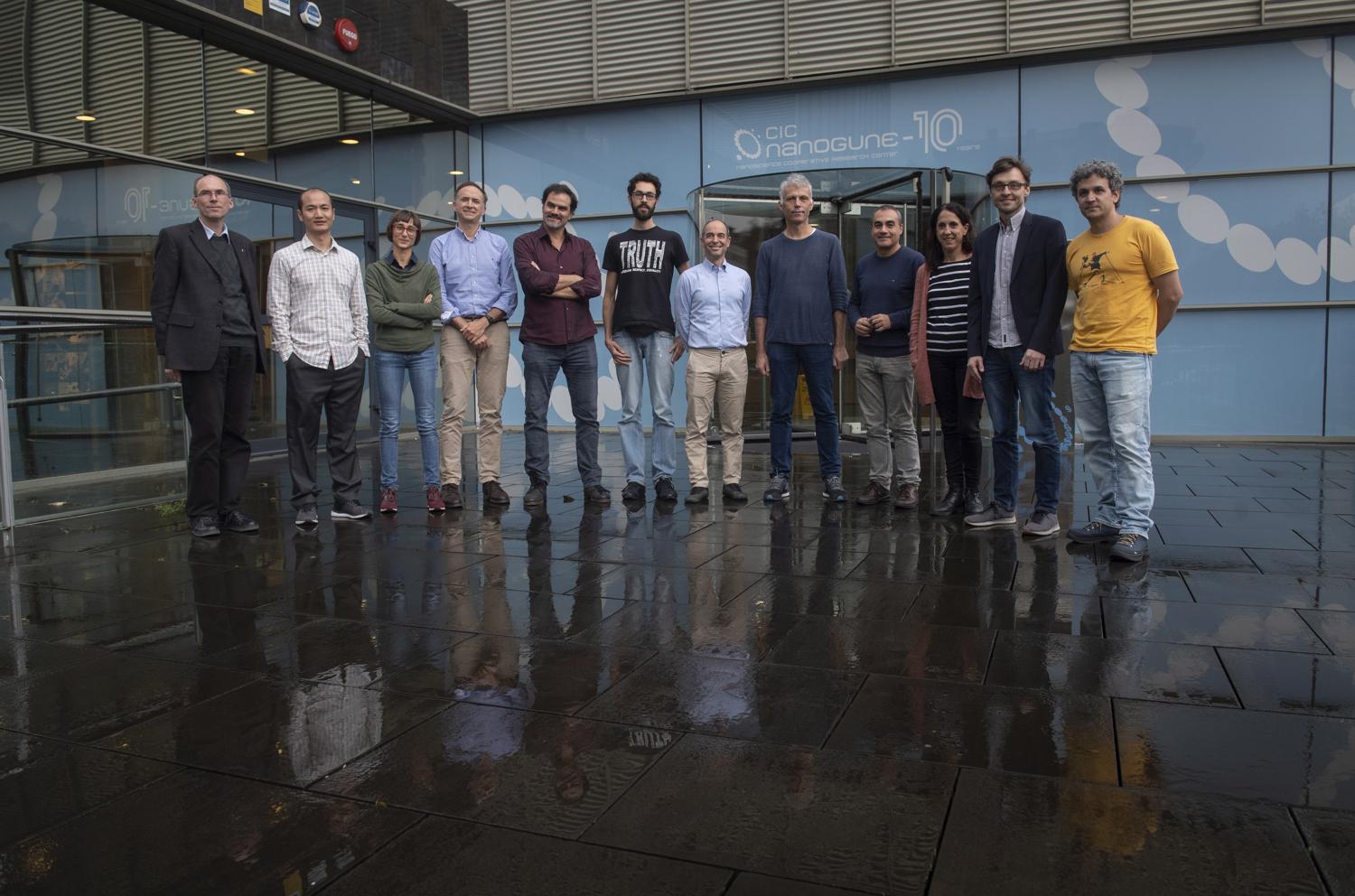 The meeting marks the starting point of a 4-year research project that is coordinated by CIC nanoGUNE and integrates IBM Research, Donostia International Physics Center, and University of Santiago de Compostela, Technical University of Delft and the University of Oxford. The consortium of these 6 leading European research institutions has been granted a total of €3.5 million from the European Commission under the highly competitive Horizon 2020 FET-Open call, which funds cutting-edge high-risk / high-impact interdisciplinary research projects that must lay the foundations for radically new future technologies.
The SPRING project combines recent scientific breakthroughs from the consortium members to fabricate custom-crafted magnetic graphene nanostructures and test their potential as basic elements in quantum spintronic devices. The targeted long-term vision is the development of an all-graphene – environmentally friendly – platform where spins can be used for transporting, storing and processing information.
The spin is an intrinsic property of electrons that makes them behave like tiny magnets. For instance, every electron in any material carries both a charge and a spin, the latter playing a key role in magnetism.
Within the scientific community there is consensus that spin is the ideal property of matter to expand the performance of current charge-based nanoelectronics into a class of faster and more power-efficient components, being the basis for the emerging technology called quantum spintronics. The SPRING project will investigate the fundamental laws for creating and detecting spins in graphene, this is to read and write spins, and using them to transmit information.
Jose Ignacio Pascual, Ikerbasque Research Professor at CIC nanoGUNE and scientific coordinator of the project, explains that "graphene is ideal to host spins and to transport them. This atomically thin material can now be fabricated with atomic precision, opening the door to fabrication of designer structures with precise shape, composition, spin arrangement, and interconnected by graphene electrodes for electrostatic or quantum gates. The potential is a platform for the second quantum revolution as qubit elements for quantum computation."
Subscribe to