Emilio Artacho, new nanoGUNE Theory Group Leader
Starting on 1 October, Prof. Emilio Artacho, coming from the University of Cambridge, has taken on his new responsibilities as Ikerbasque Research Professor and Leader of the Theory Group at nanoGUNE.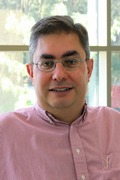 He obtained his PhD in Condensed Matter Physics at the Autonomous University of Madrid in 1990. He then spent two years at the University of California at Berkeley as a Fulbright fellow, and one year at the Max-Planck Institute for Solid-State Research, as an Alexander-von-Humboldt fellow. In 1993 he became Assistant Professor at the Autonomous University of Madrid, where he was tenured by the end of 1995. During his years in Madrid, he spent part of 1999 as Visiting Professor at the Ecole Normale Superiere de Lyon. In 2001 he was appointed Lecturer at the Earth Sciences Department in Cambridge, and became Reader in Condensed Matter Simulations in October 2002. He became Professor in 2006. He became Official Fellow of Clare Hall in March 2002, and Professorial Fellow in 2006. He was also Visiting Miller Professor at the University of California, Berkeley during the second half of 2007.
He is involved in the development and application of first-principles methods for the simulation of matter in the solid and liquid state. In collaboration with the SIESTA team, they have implemented their own linear-scaling density-functional method for the purpose. He has used it for the study of nanostructured materials (carbon nanotubes, metallic clusters), biomolecules, and solids and liquids in general.