Marco Donolato and Team, finalists for the European Inventor Award 2021
The European Patent Office (EPO) has nominated former nanoGUNE researcher Marco Donolato as finalist in the "Research" category of the European Inventor Award 2021 for its invention "Magnetic nanoparticles to diagnose disease", a patent registered in collaboration with nanoGUNE Ikerbasque Research Professor Paolo Vavassori and Professor Mikkel Fougt-Hansen, from Technical University of Denmark (DTU). The invention led to the creation of a novel testing device which detects infectious diseases within minutes, enabling medical staff to begin treatment immediately and potentially saving millions of lives in countries struggling with diseases such as dengue fever.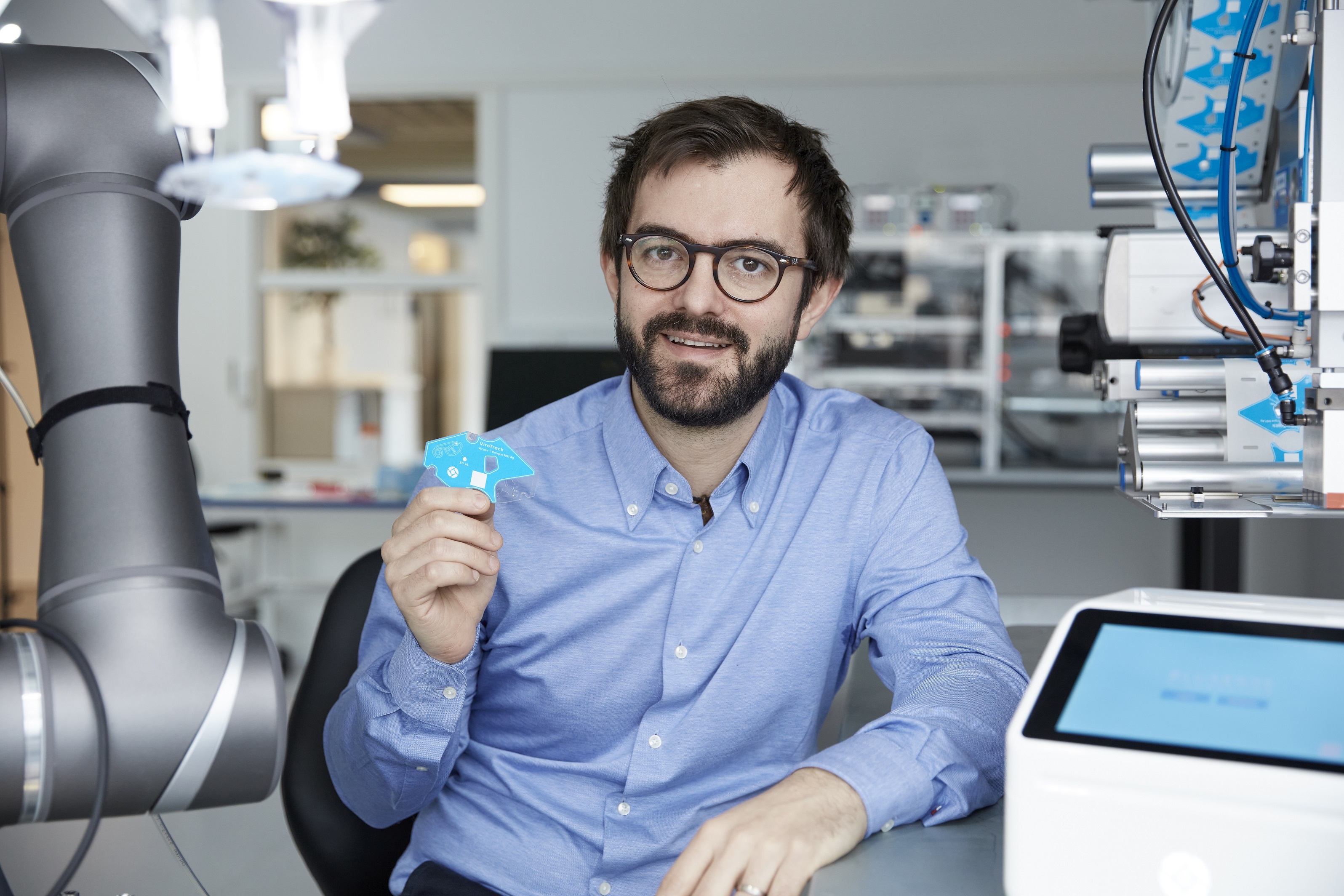 Marco Donolato is a physics engineer and doctor from Politecnico de Milano. He began his career investigating how magnetic fields could be used to manipulate nanoparticles to bind to specific biological targets. He completed his thesis project "Novel methods for detection and manipulation of magnetic particles for lab-on-chip applications" in 2011 in co-partnership with Professor Mikkel Fought-Hansen at DTU Nanotech. He then strengthened his expertise on nanomagnetism and optics with Ikerbasque Professor Paolo Vavassori at nanoGUNE as a post-doctoral researcher for almost two years. As a result of this collaborations, DTU and nanoGUNE made a patent application (EP3014245 Biosensor based on measurements of the clustering dynamics of magnetic particles) authored by the three scientists.
Combining his expertise with that of Professor Fougt-Hansen and Professor Vavassori, Donolato developed a device that uses magnetic nanoparticles (MNPs) and an optical reader, like those found in standard Blu-ray players to rapidly diagnose infectious diseases. The device blends cross-disciplinary research expertise across physics, optical technology and microfluidics to create an approach that harnesses what Donolato calls 'Immuno-Magnetic Assay (IMA)' technology. "The inventive step was combining what I learned about nanoparticle dynamics in Denmark, with the optics parts I learned and developed in Spain," he says.
The simplicity of the solution and the potential of its application in low-income countries where low-cost testing is required inspired Donolato to start a new company called BluSense Diagnostics in 2014 to further develop and commercialize the device. The DTU-nanoGUNE patent was licensed to this company for its exploitation. Donolato is nowadays the chief scientific officer of BluSense Diagnostics, which has more than 60 employees and has raised over 15 million EUR in funding.
"Patenting their technology was a key early step that helped them further develop and commercialize their product. Today, they have an established company that is in an even better position to continue researching, with the potential to have a major impact on the health of some of the world's most vulnerable people", says EPO President António Campinos.
The patented testing system detects and quantifies the amount of a virus from a single drop of blood from a patient's fingertip in around 10 minutes. It is automated, easy-to-use for non-specialists and inexpensive - all factors that make it ideal for use in remote or rural settings.
Donolato has overseen the successful commercialization of his patented system for use against dengue infections in Vietnam, Thailand and Malaysia. A test has also been developed for the Zika virus, with others in progress for chikungunya, yellow fever and West Nile fever. In response to the current pandemic, the company is also working on a new product to measure a patient's antibody response to COVID-19 in just five minutes.
About the European Inventor Award
The European Inventor Award is one of Europe's most prestigious innovation prizes. Launched by the European Patent Office (EPO) in 2006, it honours individual inventors and teams of inventors whose pioneering inventions provide answers to some of the biggest challenges of our times. The finalists and winners are selected by an independent jury consisting of international authorities from the fields of business, politics, science, academia, and research who examine the proposals for their contribution towards technical progress, social development, economic prosperity and job creation in Europe. The Award is conferred in five categories (Industry, Research, SMEs, Non-EPO countries and Lifetime achievement). The Research category is presented to inventors working at universities or research institutions. Inventions presented in this category will often have led to major technological progress and enhanced the reputation of the inventor's institution.