Marco Gobi, Best Experimental Thesis Award
Marco Gobbi has been awarded the Best Experimental Thesis Prize by GEFES, Group Specialized on Solid State Physics of the Spanish Royal Physical Society. Dr. Gobbi is a former pre-doctoral researcher at the Nanodevices Group of nanoGUNE, where he presented the PhD thesis "Spintronic Devices Based On Fullerene C60" on May 2013.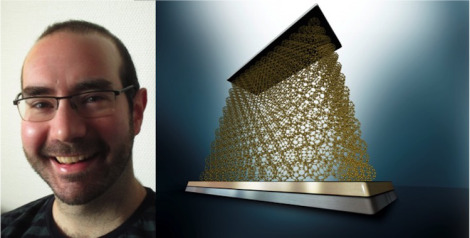 The GEFES awards ceremony will take place on July 2015, during their symposium on the 25th Spanish Royal Physical Society's Biannual meeting in Gijón (Spain). Alejandro Manjavacas, who developed his PhD thesis at the "Rocasolano" Institute of Physical-Chemistry, has been awarded the Best Theorical Thesis prize for his thesis project: "Light-matter interaction at the nanoscale".
Marco Gobbi's thesis describes the fabrication and characterization of spintronic devices based on the combination between thin films of ferromagnetic metals and C60 fullerene molecules. Then, he focuses on two spintronic devices based on C60: spin valves and magnetic tunnel transistors. He concludes with the description of a device for more advanced study of spin transport in C60.