Mato Knez, new nanoGUNE Nanomaterials Group Leader
Starting on 1 January, Dr. Mato Knez, coming from the Max Planck Institute of Microstructure Physics in Halle (Germany), has taken on his new responsibilities as Ikerbasque Research Professor and Leader of the Nanomaterials Group at nanoGUNE.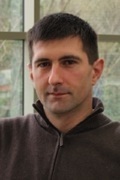 He developed his PhD at the Max Planck Institute FKF Stuttgart and at the University of Ulm between 1999 and 2003. He then moved to a post-doc position at the Max-Planck Institute of Microstructure in Halle where, since 2006, he was leading the research group of Functional 3D-Nanostructures by Atomic Layer Deposition. He was Visiting Professor at the Università Degli Studi di Brescia (Italy) in 2009.
He received the Nanofutur-award by the German ministry of education and research in 2006 and very recently in 2012 the Gaede-Award of the German Vacuum Society and the German Physical Society.
His research work has its main focus on the synthesis and functionalization of novel materials utilizing atomic layer deposition (ALD) as universal tool for functionalization and modification. His current interests include:
Thin film coatings for functionalization of materials: Corrosion protection, Flexible electronics, Sensing, Energy applications
Hybrid inorganic-organic materials for applications as textiles, automotive industry, or aeronautics.
Bio-inorganic nanomaterials for particular applications in nanomedicine.
For further information: