Nanodevices Group in Nature Physics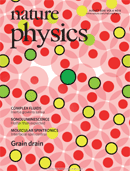 June 2010, Volume 6 No 6 pp615-620
Unravelling the role of the interface for spin injection into organic semiconductor
Clément Barraud (1), Pierre Seneor (1), Richard Mattana (1), Stéphane Fusil (2), Karim Bouzehouane (1), Cyrile Deranlot (1), Patrizio Graziosi (3), Luis Hueso (3,4), Ilaria Bergenti (3), Valentin Dediu (3), Frédéric Petroff (1) & Albert Fert (1)
Organic materials are attractive for building spintronics devices owing to their expected long spin lifetimes. Moreover, the ability to control their properties by changing their composition and molecular structure makes them easier to tailor to given tasks than inorganic materials. However, most studies of candidate organic spintronics materials focus on their bulk spin transport characteristics. Here we investigate the equally important process of spin injection and how it is influenced by interface coupling in the prototype organic semiconductor, Alq3. We fabricate nanometre-scale (La,Sr)MnO3/Alq3/Co magnetic tunnel junctions that exhibit a magnetoresistive response of up to 300%. Furthermore, we develop a spin transport model that describes the role of interfacial spin-dependent metal/molecule hybridization on the effective polarization allowing enhancement and even sign reversal of injected spins. We expect such insights to lead towards the molecular-level engineering of metal/organic interfaces to tailor spin injection and bring new electrical functionalities to spintronics devices.
1· Unité Mixte de Physique CNRS/Thales, 91767 Palaiseau France associée à l'Université de Paris-Sud, 91405 Orsay, France
2· Université d'Evry-Val d'Essonne, 91025 Evry, France
3· ISMN-CNR, via Gobetti 101, 40129 Bologna, Italy.
4·  CIC nanoGUNE Consolider, Tolosa Hiribidea 76, E-20018 Donostia – San Sebastian and IKERBASQUE, Basque Foundation for Science, E-48011 Bilbao, Spain.