NanoGUNE awarded in the Raith Micrograph Award 2011
The micrograph of a lateral spin valve with integrated dielectric mask, which was obtained by the Ph.D. student Thales de Oliveira from the Self-Assembly Group, has been awarded the second prize of the Raith Micrograph Award 2011. Raith is one of the world-leading suppliers of innovative solutions for nanolithography and nanofabrication.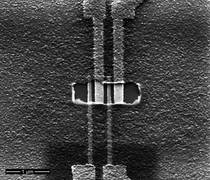 The award-winning device is the result of a collaborative effort between Alexander Bittner's and Luis Hueso's groups, towards the controlled integration of organic semiconductors into solid-state devices. The device was fabricated in multiple electron-beam lithography steps in a RAITH150-TWO system. It consists of a standard lateral spin valve with an integrated SiO2 shadow mask, which allows deposition of pristine organic semiconductors in specific locations of the circuit. The research aims at understanding fundamental questions regarding injection, transport, and detection of spin-polarized carriers in a large range of molecular materials.
For more information on the contest access Raith Micrograph Award 2011.