Luis Hueso Arroyo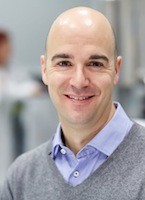 Nanodevices
Senior Scientists
Ikerbasque professor
Background
Luis E. Hueso is currently an Ikerbasque Research Professor, Leader of the Nanodevices group and Scientific Director of the "Maria de Maeztu" Unit of Excellence CIC nanoGUNE.
He obtained a PhD degree in Physics at the University of Santiago de Compostela with J. Rivas, and was awarded postdoctoral fellowships at both the University of Cambridge (MSCA Fellow with N.D. Mathur) and the Italian National Research Council (with V.A. Dediu). Before his arrival to nanoGUNE in 2009, he was  a Lecturer at the University of Leeds (UK). His research focuses on electronic transport in nanoscale devices, and particularly spintronic and organic electronic applications. 
He has positions as an Associate Editor at Journal of Materials Chemistry C and as a Member of the Editorial Board of Applied Physics Letters.
An updated list of his publications can be found here: https://scholar.google.com/citations?user=YWSG_LwAAAAJ