"Polythiophene-based nanoscale lateral devices", PhD thesis by Thales V. A. G. de Oliveira
Thales de Oliveira, Pre-doctoral Researcher at the Self-Assembly Group at nanoGUNE, received his PhD at the University of the Basque Country (UPV/EHU) after the defense of his thesis project on Friday 23 May 2014. His research work, entitled "Polythiophene-based nanoscale lateral devices", has been developed under the supervision of Dr. Alexander Bittner and Dr. Luis E. Hueso, Ikerbasque Research Professors and Leaders of the Self-Assembly and Nanodevices Groups, respectively.
De Oliveira has investigated nanoscale hybrid organic-inorganic nanostructures are investigated as components of functional electronic devices. The integration of organic materials in electronic devices holds great promise for current and future applications. In fact, organics offer many advantages over their inorganic counterparts, such as high chemical tunability, low-temperature processing, and the prospect for low-cost, large-area manufacturing.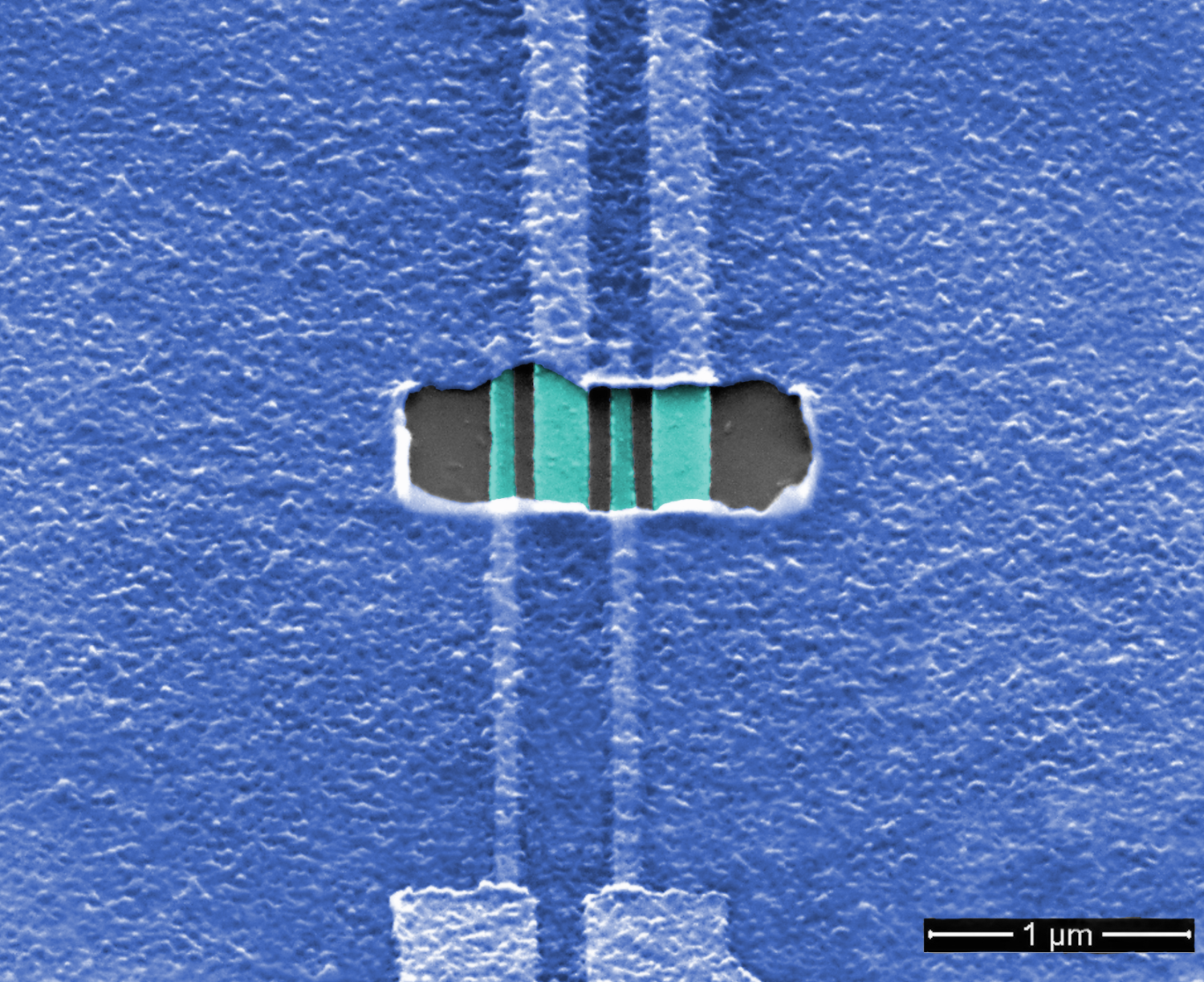 The false-colored S.E.M. image depicts a lateral spin valve with integrated dielectric mask for organic conductors. The image was awarded the second prize of the Raith Micrograph Award in 2011.
Two topics were covered in this work. The first topic dealt with organic spin-valves, a novel concept that allows information storage in organic electronic devices. The work serves as basis for the understanding of integration of conductive polymers with ferromagnetic materials and spin-transport phenomena in nanoscale lateral devices. The second topic addresses organic thin-film transistors, which allow the manufacture of logic integrated circuits via low-cost fabrication methods (e.g. solution processing). A thorough experimental investigation on self-assembled monolayer based gate dielectrics and its interaction with highly crystalline polymer semiconductors is presented. Another important aspect covered in this thesis is device miniaturization. Reducing devices to nanoscopic dimensions not only can improve known properties, but can give rise to novel functionalities. For instance, in the case of organic spintronic devices, nanometric scale manufacturing is imperative for its functionality since spin diffusion lengths in these materials are relatively short.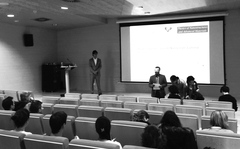 An international committee including leading researchers in the field was selected by the UPV/EHU to assess the research project:
Andres Arnau Pino (Centro de Física de Materiales CSIC-UPV, Spain)
Ivan Brihuega (Universidad Autónoma de Madrid, Spain)
Marta Mas-Torrent (Institut de Ciencia de Materials de Barcelona CSIC, Spain)
Eduardo Jian Hua Lee (Commissariat à l'énergie atomique et aux énergies alternatives CEA, France)
Lucia Vitali (Centro de Física de Materiales CSIC-UPV, Spain)
The defense consisted of a presentation by the candidate of the main aspects of the research project followed by a long discussion about the questions that each one of the members of the committee raised around the research works that have been carried out during the whole PhD period. After its final deliberation, the committee decided to award the candidate the Doctor Degree with the highest mention existing at the Spanish University (cum laude).