Repsol and CDTI invest a million euros in nanoGUNE's start-up company, Graphenea
Repsol and the Centre for Industrial Technological Development (CDTI in its Spanish initials), have signed an agreement with Graphenea, nanoGUNE's first start-up company, through which both will invest jointly a million euros in the share capital of the technological company. CDTI is a body dependent on the Ministry of Economy and Competitiveness of the Spanish Government.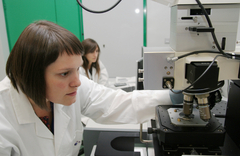 NanoGUNE's start-up company, Graphenea, has developed innovative technology for the production of high-quality graphene; its products are supplied to 40 countries and to multinationals such as Nokia, Philips and Sigma-Aldrich, amongst others. Graphenea was founded in 2010, in the Basque city of San Sebastian, as a joint venture of private investors and nanoGUNE.
This co-investment, carried out within the remit of the INNVIERTE programme, within the area of new energies, will reinforce technological capacity, will help business growth and, moreover, will enable the company's international leadership to be maintained within the emerging sector of graphene production. In this sense, the funds will be implemented for accelerating the company's business plan for industrialisation.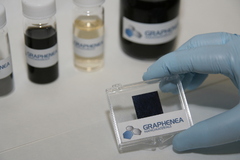 Graphene is a new nanomaterial made up of a single layer of carbon atoms and which has extraordinary optical, electrical, thermal and mechanical properties. This makes it for being in high demand in the development of new disruptive technologies for the storage and generation of energy. Specifically, in this vein, products made from it are employed in making batteries, supercapacitors, solar cell and thermal management devices. Moreover, its materials are also used as polymer or resin additives.
Last year, the world graphene market had a turnover of 6.6 million euros. Analysts estimate that in 2018 this figure will surpass 73 million euros.