Related news by tag Plasmonics
Radiation in the terahertz (THz) frequency range is attracting large interest because of its manifold application potential for non-destructive imaging, next-generation wireless communication or sensing. But still, the generating, detecting and controlling of THz radiation faces numerous technological challenges. Particularly, the relatively long wavelengths (from 30 to 300 μm) of THz radiation require solutions for nanoscale integration of THz devices or for nanoscale sensing and imaging applications.
In recent years, graphene plasmonics has become a highly promising platform for shrinking THz waves. It is based on the interaction of light with collective electron oscillations in graphene, giving rise to electromagnetic waves that are called plasmons. The graphene plasmons propagate with strongly reduced wavelength and can concentrate THz fields to subwavelength-scale dimensions, while the plasmons themselves can be controlled electrically.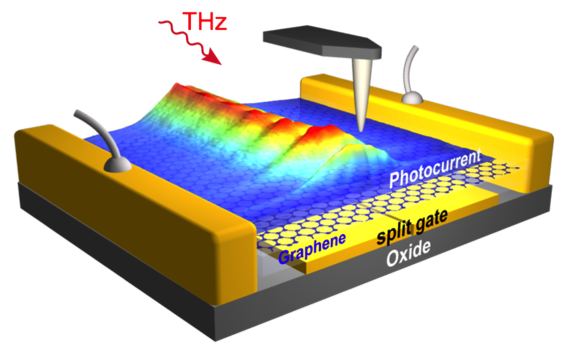 THz plasmons of extremely short wavelength propagate along the graphene sheet of a THz detector, as visualized with photocurrent images obtained by scanning probe microscopy.
Now, researchers at CIC nanoGUNE (San Sebastian, Spain) in collaboration with ICFO (Barcelona, Spain), IIT (Genova, Italy) - members of the EU Graphene Flagship - Columbia University (New York, USA), Radboud University (Nijmegen, Netherlands), NIM (Tsukuba, Japan) and Neaspec (Martinsried, Germany) could visualize strongly compressed and confined THz plasmons in a room-temperature THz detector based on graphene. To see the plasmons, they recorded a nanoscale map of the photocurrent that the detector produced while a sharp metal tip was scanned across it. The tip had the function to focus the THz illumination to a spot size of about 50 nm, which is about 2000 times smaller than the illumination wavelength. This new imaging technique, named THz photocurrent nanoscopy, provides unprecedented possibilities for characterizing optoelectronic properties at THz frequencies.
The team recorded photocurrent images of the graphene detector, while it was illuminated with THz radiation of around 100 μm wavelength. The images showed photocurrent oscillations revealing that THz plasmons with a more than 50 times reduced wavelength were propagating in the device while producing a photocurrent.
"In the beginning we were quite surprised about the extremely short plasmon wavelength, as THz graphene plasmons are typically much less compressed", says former nanoGUNE researcher Pablo Alonso, now at the University of Oviedo, and first author of the work. "We managed to solve the puzzle by theoretical studies, which showed that the plasmons couple with the metal gate below the graphene", he continues. "This coupling leads to an additional compression of the plasmons and an extreme field confinement, which could open the door towards various detector and sensor applications", adds Rainer Hillenbrand, Ikerbasque Research Professor and Nanooptics Group Leader at nanoGUNE who led the research. The plasmons also show a linear dispersion – that means that their energy is proportional to their momentum - which could be beneficial for information and communication technologies. The team also analysed the lifetime of the THz plasmons, which showed that the damping of THz plasmons is determined by the impurities in the graphene.
THz photocurrent nanoscopy relies on the strong photothermoelectric effect in graphene, which transforms heat generated by THz fields, including that of THz plasmons, into a current. In the future, the strong thermoelectric effect could be also applied for on-chip THz plasmon detection in graphene plasmonic circuits. The technique for THz photocurrent nanoimaging could find further application potential beyond plasmon imaging, for example, for studying the local THz optoelectronic properties of other 2D materials, classical 2D electron gases or semiconductor nanostructures.
Few years ago a collaboration between the nanomagnetism and nanooptics groups in nanoGUNE demonstrated that ferromagnetic nanoantennas support localized plasmons, and, at the same time, show a sizeable magneto-optical activity under the application of external magnetic fields. The idea of bringing light and magnetism together at the nanoscale using plasmons led, in the past decade, to the rapidly developing field of magnetoplasmonics to realize novel and unexpected phenomena and functionalities for the manipulation of light and/or spin states at the nanoscale.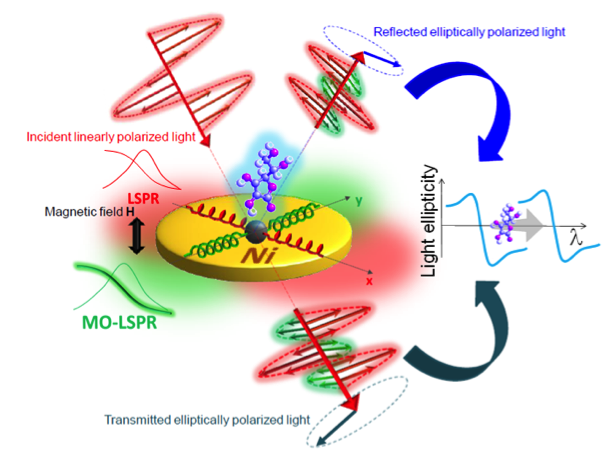 Now, a team of researchers from CIC nanoGUNE, in collaboration with researchers from
Chalmers University of Technology
and
Gothenburg University
, have discovered
a new way of optical sensing, using the magneto-optical Kerr and Faraday effects in ferromagnetic nanoantennas
. They have recently shown in a work published in
Nature Communications
how designed phase compensation in the electromagnetic response of magnetoplasmonic nanostructures enables them to act as ultrasensitive label-free molecular-level sensors with high figures of merit, viz. great sensing performances with extraordinary signal to noise ratio. Most remarkably, they have shown a raw surface sensitivity (that is, without applying any fitting procedures) of two orders of magnitude higher than the current values reported for nanoplasmonic sensors. Such sensitivity corresponds to a mass of 0.8 ag per nanoantenna of polyamide-6.6, which is representative for a large variety of polymers, peptides, and proteins. This proof of concept opens the pathway for the designing of a new type of practical devices, which can be magnetically activated and controlled to achieve very high sensing performances up to a sub-molecular-level.
The discovery of these ultrasensitive capabilities is primarily directed towards biomedicine and diagnostics as an efficient way to retrieve more information from smaller amount of fluids, like blood or urine as well as to detect cancer serum or to study proteins dynamics upon surface functionalization. In addition to biosensing, there are also many other potential applications that do not require surface functionalization and would enormously benefit from this novel approach, like chemical sensing of toxic materials and explosives, or ultra-precise thickness-monitoring applications.
The experiments were carried out in nanoGUNE and are the results of a synergistic collaboration between the Nanomagnetism and Nanomaterials groups.
Figure:
Light polarization manipulation enabled by phase compensation in the electric response of a magneto-plasmonic nanoantenna controlled through precise design of the LPRS resonance induced by the magneto-optical activity (MO-LSPR) of the ferromagnetic constituent material (Ni) and  exploitation of the  effect for ultrasensitive molecular sensing.
Subscribe to