Related news by tag Early Stage Researcher
NanoGUNE is set to participate in two new projects on quantum electronics and hybrid coatings in one of Europe's most competitive programs, the European Union's Initial Training Networks (ITN), starting January 2018. Through this participation the center will be receiving nearly half a million euros for each project for the coming four years.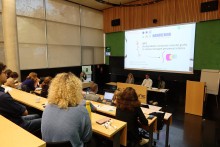 Repair or replacement of tissue and organ functions, lost due to age, disease or damage, represents one of the most urgent medical needs of our aging society. The NanoReMedi consortium will contribute to addressing this fundamentally important issue by using a new and efficient scientific approach, relying on the design, preparation, characterization and validation of peptide-based functional nanomaterials.
Subscribe to