Related news by tag Nanogune mediacenter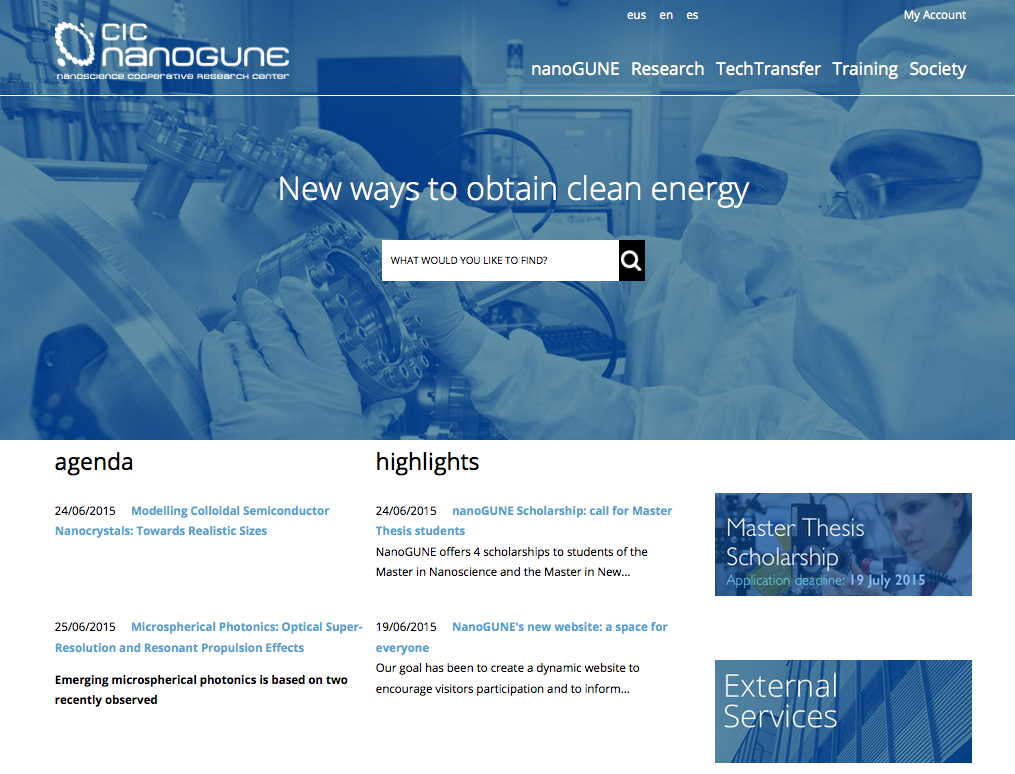 CIC nanoGUNE has launched the updated version of it's website (www.nanogune.eu). The site has been thought to fulfill the center's mission, and to bring the social benefits of the "nano" closer to the Basque companies.
The new website has an English version and, for the first time, it is also possible to navigate in Basque and Spanish. The biggest part of the content can be accessed in the three languages in order to answer to the necessities of our very diverse public.
With that diversity of publics in mind we designed the different sections of the website:
The "nanoGUNE" section includes corporative information, information about facilities and equipment, contacts, job offers, a newsroom and useful information about the day to day life with us.
The "Research" area is specially designed for researchers worldwide, this is the reason why most of the information is only accessible in English. The user will be able to explore nanoGUNE's main research lines, as well as information about research groups and projects.
The "TechTransfer" space is focused on the activity and services more related with industry, being a space specially designed for companies.
The "Training" area has information related with university and high school students and teachers. Offers for PhD thesis, master degree projects or bachelor's final projects can be found here, as well as calls for scholarships. This section also informs about activities for high school students and teachers, and includes links to different educational material.
In "Society" is intended to report on activities open to all citizens and to spread clear and reliable information on nanoscience and nanotechnology In this section, for example, citizens have the opportunity to send their doubts and questions about "nano".
Together with the website, we have also prepared a newsletter, the best way to keep informed about all the activity of the center. Everyone is welcome to subscribe to this service.
Subscribe to