Related news by tag NANOMATERIALS
"The aim is to provide solutions and consulting services for the development of processes and products to companies, and to offer also instrumentation or technical means so that they can do it in their own facilities" explains the Ikerbasque professor Mato Knez, leader of nanoGUNE´s Nanomaterials group and scientific advisor of CTECHnano.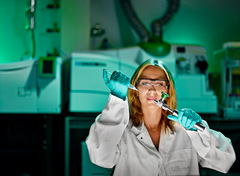 CTECHnano is focused on customers looking for innovative products, working to overcome challenges in the field of thin-film coatings or trying to improve theperformance of their current processes. "We are thinking about sectors that seek innovation in order to open new markets. There are many industries that produce in the same way as they did twenty or fifty years ago", tells Mato Knez. "Our idea is to help them to innovate by using the ALDtechnology. In this way they may adapt and improve the functionalities and properties of the materials, eventually obtaining new products" adds Knez. CTECHnano has a very strong experience in applying ALD technology to a variety of materials. "If a customer needs a tailored solution for a challenging development of materials, we will be offering a solution wherever possible. For this purpose, we have appropriate instrumentation for processing and characterization as well as the experience, as nanoGUNE´s Nanomaterials group is a reference in the use and development of this technology.
Why using ALD technology?
ALD technology allows changing the properties of materials. A very thin layer of only a few nanometers is deposited onto the substrate covering its entire surface. With such thin coatings many properties of the original material are retained, but at the same time, additional properties can be supplemented.
ALD provides a very controlled way to deposit thin films with thickness control on the atomic scale. Also, the growth of multilayer structures composed of different materials is straightforward. Due to the precision of the process and its reproducibility, it is already an established processing technology in the field of modern micro and nano electronics. ALD is typically run at temperatures lower than the competing vacuum based deposition processes, including chemical vapor deposition or thermal evaporation. The lower processing temperature additionally allows working with fragile substrates, such as biological or polymeric samples. This small, but important difference makes ALD the method of choice for many emerging applications such as, flexible electronics or composite materials design.
A strong team
Although being new, the company unites an experienced and complementary team working together. nanoGUNE has been the promoter of CTECHnano and two more companies —AVS and Cadinox— joined nanoGUNE for bringing CTECHnano to life. AVS and Cadinox have broad experience in design, manufacturing, integration, test and delivery of equipment to technology driven markets. "They are two ideal and strong partners for CTECHnano" says David Talavera, manager of the company. "The most important point is that all together we have the scientific and technological capability to beneficially adapt to customers´ needs", he adds.
CTECHnano's website is www.ctechnano.com
CIC nanoGUNE
The CIC nanoGUNE Nanoscience Cooperative Research Center, located in Donostia-San Sebastian (Basque Country), is a research center set up with the mission to perform word-class nanoscience and nanotechnology research for the competitive growth of the Basque Country.
AVS
AVS (Added Value Solutions) conceives and delivers scientific instrumentation in the fields of Astrophysics, Particle physics, Space and Neutron and X ray sources. AVS designs and develops high precision instrumentation working under harsh environments such us UHV, Radiation, High magnetic fields and cryogenic temperatures, covering design, manufacturing, integration, test and delivery under EN 9100 certification. AVS offers effective reliable and innovative solutions for technology driven markets. It is an open minded, flexible and creative organization ready to take new challenges and new ventures.
Cadinox
CADINOX, familiar company since 1966, dedicates to the mechanowelded fabrications of equipemnts for complex and unique installations. In its facilities located at Belauntza, 8600 covered s.m. with weight capacity up to 60 tons, 65 qualified people cover all the processes to offer an integral solution: cutting, forming, welding and associated NDT, surface treatment and final machining. It includes also the testing and mechanical assembly operations.
NanoGUNE is set to participate in two new projects on quantum electronics and hybrid coatings in one of Europe's most competitive programs, the European Union's Initial Training Networks (ITN), starting January 2018. Through this participation the center will be receiving nearly half a million euros for each project for the coming four years.
Subscribe to