Projects at a Glance
QuESTech (Project ID: 766025) is a consortium of 7 leading European research laboratories and 2 high-tech companies. Supported by the European Community, QuESTech will provide a challenging, state-of-the-art training for young researchers in the general field of experimental, applied, and theoretical quantum electronics. The main scientific topics include spintronics, molecular electronics, single electronics, transport in low-dimensional structures, and quantum thermodynamics.

Thin films of hybrid materials engineered at the molecular scale can enable breakthroughs in several economically and socially relevant technological application areas including packaging & encapsulation, electronics, batteries and biomedical applications. With self-limiting binary reactions, Molecular Layer Deposition (MLD) is the ideal deposition technique for growing ultra-thin, uniform, conformal hybrid films with precise and flexible control over the film thickness and molecular-scale chemical composition. The key objective of HYCOAT is to create a group of exceptionally well-trained young researchers who have a deep understanding of all aspects of MLD technology, as well as broad vision on the application potential of hybrid coatings.

We propose to establish Plasmon -enhanced Terahertz Electron Paramagnetic Resonance spectroscopy and scanning microscopy as a unique Electron Paramagnetic Resonance (EPR) platform for high-sensitivity local analysis of paramagnetic organic and inorganic species and materials. Here, we will deliver novel hardware and infrastructure providing ground-breaking innovation in the magnetic sensing and imaging.

Understanding radiation effects on different materials is of paramount importance for many scientific and technological fields like those related to nuclear energy, space industry, laser- and ion-based materials processing and therapeutic applications. The particular case of radiation effects on pure and mixed water ice is very important in Astrochemistry and Prebiotic Chemistry, being water ice present in cosmic dust grains and on the surface of many bodies in the Solar System like asteroids and several satellites (e.g. Europa, Callisto and Ganymede).

Atomic Layer Deposition For tailored bottom-top growth of MAX and MXene films.

We live in a constantly changing society in which information and communication are at the basis of our economy. To keep progressing is essential to investigate new feasible ways to control and manipulate information in order to develop faster, smaller and less consuming devices. Organic Spintronics has emerged as a promising field to develop low-cost, mechanically-flexible and multi-functional devices in which information is carried not only by the charge but also by the spin of electrons.

Within the project an extensive, detailed and robust Business Plan will be developed for setting-up of the Centre of Excellence ENSEMBLE3, with focus on the research excellence and innovation performance in the area of crystal growth-based technologies, novel functional materials with innovative electromagnetic properties, and applications in nanophotonics, optoelectronics, telecommunication, medicine, and photovoltaics.

We will develop the conceptually new paradigm for ultra-dense and ultrafast magnetic storage that will exceed the current technology by two orders of magnitude in storage density (going from terabit/inch2 to tens of terabytes/inch2) and by about four orders of magnitude in operation speed (going from low GHz to THz for read/write).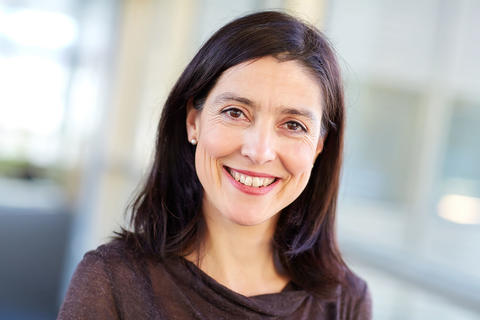 Yurdana Castelruiz
Projects Manager
+ 34 943574022
y.castelruiz[at]nanogune.eu