Related news by tag nanoscience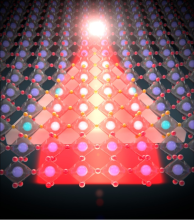 Light refraction accounts for the change of direction and speed that a wave undergoes when passing from one medium to another. Glasses and contact lenses, microscopes and telescopes, or something as commonplace as the fact that a pencil inserted into a glass of water appears bent when viewed from the outside, have their origin in the optical phenomenon of refraction.

Terahertz radiation has become an important diagnostic tool in the development of new technologies. However, the diffraction limit prevents terahertz radiation (λ ≈ 0.01–3 mm) from being focused to the nanometer length scale of modern devices. In response to this challenge, terahertz scanning probe microscopy techniques based on coupling terahertz radiation to subwavelength probes such as sharp tips have been developed.
Subscribe to